Omega Wood is another Vicoustic 2-in-1 product. The smooth curved surface acts as a diffuser, while the foam interior (intentionally separated from the perforated wood surface) offers an extraordinary absorption effect on mid frequencies.
Omega Wood is an excellent solution for  particularly demanding acoustic requirements, offering both diffusion and an excellent absorption rate/m2, combined with a unique design.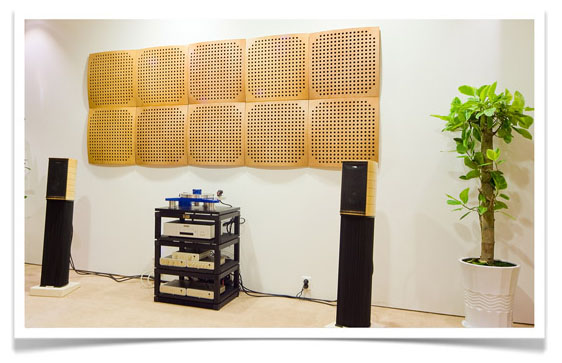 Features
Efficient absorption
Easy to install
Excellent value for money
6 units per box
Product Technical Information
Material: Acoustic foam and wood
Fire Rating: Acoustic foam – M1
Color: Available in Black, White, Nordik, Light Brown and Cherry finishes
Installation: Vicoustic FlexiGlue
Applications
Listening Rooms, Home Theaters, Recording and Broadcast Studios, Post Production Studios, Performance Spaces, Rehearsal Rooms, Conference and Teleconference Rooms, Public Spaces, Auditoriums, suspended ceilings, behind multi perforated boards, multi perforated gypsum boards, etc.
More Information
Technical File - Omega Wood
Installation Procedure - Omega Wood