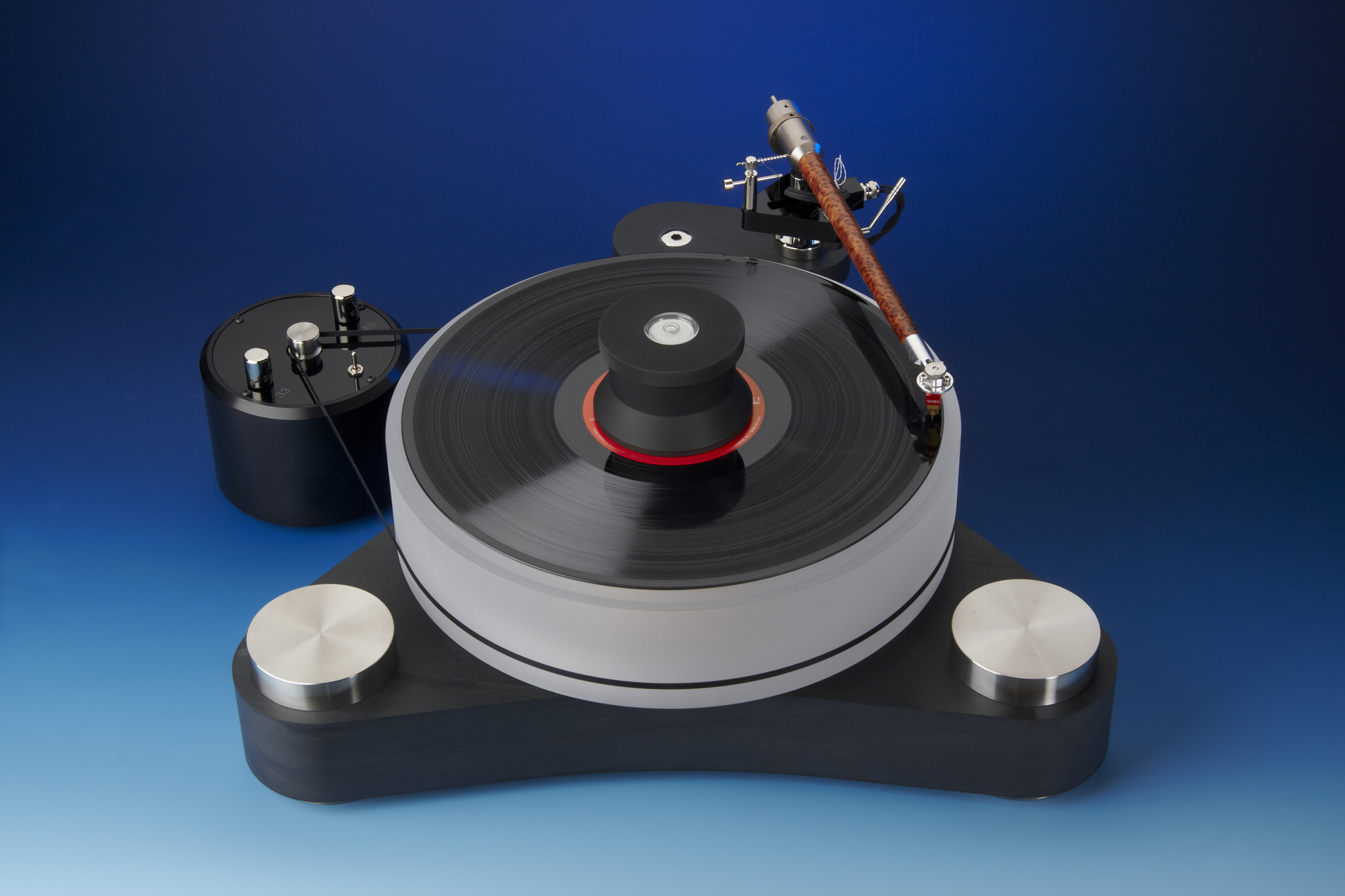 Outstanding Features
Two new turntables with the distinctive name "Das Laufwerk" have recently become Scheu Analog's top-of-the-line models. In terms of performance they comfortably exceed the company's previous top model, the "Premier", and represent the beginning of a whole new phase for Scheu Analog.
"Das Laufwerk" No.2
Weighing a total of about 38 kg, this turntable is also a heavyweight, although it uses an entirely different design.
By omitting the lead shot chamber and joining the two shell halves, a turntable of unadorned elegance came into being. Since no lead shot could be used to diminish resonance effects, other solutions had to be found. By combining various materials such as multi-ply acrylic, steel and bronze, it was possible to achieve extremely effective adaptive resonance suppression and damping.
This turntable also features three tone arm bases, an electronically regulated DC motor with fine speed adjustment and string drive, an 80-mm-thick turntable and height-adjustable steel feet in spike or flat format.
"Das Laufwerk" No.2 is available in polished black acrylic and satin-finish colourless acrylic. There is also an exclusive version with a slate shell. Armboards for various tone arms are available in acrylic, brass, aluminium or bronze.
The Sound
A description of sound is of course always subjective. During the in-house development phase the "Premier" was consistently used as a reference. The No.1 and No.2 turntables comfortably exceed even this in terms of sound reproduction.
Details are reproduced with outstanding fidelity. The bass is powerful and contoured, the fundamental sound is natural and needs no boosting. Soundstage width and depth are faithfully reproduced and everything is realistically placed in the soundscape. The treble is not overemphasized, so that cymbals, for example, ring long and clear. In spite of the extremely detailed resolution, the musical flow is never lost.
While "Das Laufwerk" No.1 sounds slightly warmer and more rounded, "Das Laufwerk" No.2 is characterized by an even more dynamic and unfussy reproduction.
Both turntables should appeal not only to those connoisseurs whose interest is purely in music, but also to ambitious listeners seeking to explore the limits of their turntable day after day. They provide an excellent basis and enough scope for you to approach your own individual ideal for the reproduction of music.
Listen for yourself!
Technical Data
Multi-ply acrylic shell with stainless steel columnar bases for three tone arms, available in polished black or in colourless satin-finish.
Height-adjustable steel feet, available flat or spike-shaped
Combination of various materials for resonance suppression and damping
Inverted precision bearings
80 mm high, 7.5 kg acrylic turntable
Electronically regulated DC motor with fine-speed adjustment for 33 and 45 rpm, plus string drive
Armboards for various tone arms, available in acrylic, brass, aluminium or bronze
Reviews