P 1 Stereo-Hybrid Poweramplifier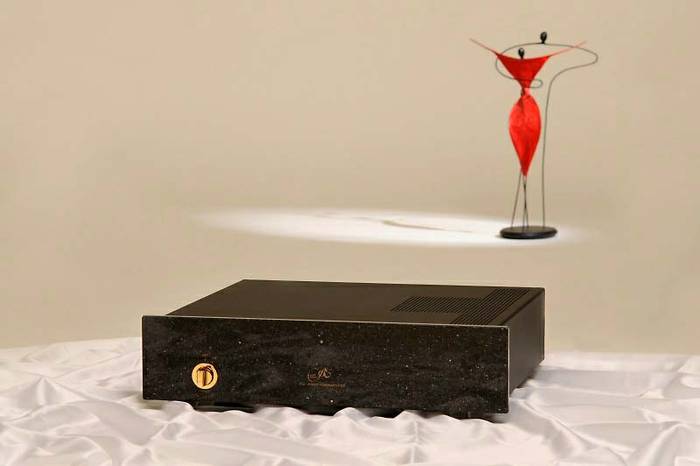 Outstanding Features
The P 1 is dual-mono hybrid stereo power amplifier with an output power of 2 x 130 W at 4 ohms. For the hybrid circuit we chose selected gold-pin E88CC tubes and 6N6 tubes as drivers. The source follower is built around special transistors which have sound characteristics similar to those of tubes.
For the sake of tone quality we abstained from adding overall negative feedback or negative feedback in the transistor section. In addition to a complex channel-separated power supply with one 500-watt transformer and an R-C filter, as well as components selected after long listening tests, the patented methods of resonance elimination which we use in all other Audio Exklusiv products are of course included here.
Specially applied, they considerably reduce artifacts and clearly improve the restitution of the finest details as well as room information. Thanks to all these measures we have attained extraordinary stability and ideal channel separation. The result is an extremely wide-range, airy, structured yet emotionally touching sonic pattern, characterized by the finest possible detail combined with authority and solidity.
The standard design of the unit includes a front plate in star galaxy granite with gold operating controls. Other designs are available on request at extra charge.
Specifications
Output power (4/8 Ohm): 130 / 80 Watt
Frequency response: 10 Hz – 180 kHz (- 3dB)
Noise: 90 dB
THD+N / IMD (10W/8Ohm): 0.277 %
Channel separation: 73 dB
Input sensitivity/Impedance: 1.4 V / 100 kOhm
Power Consumption: 125 W
Dimensions: 480 (W) x 475 (D) x 125 (H)
Weight: 19 kg
Reviews