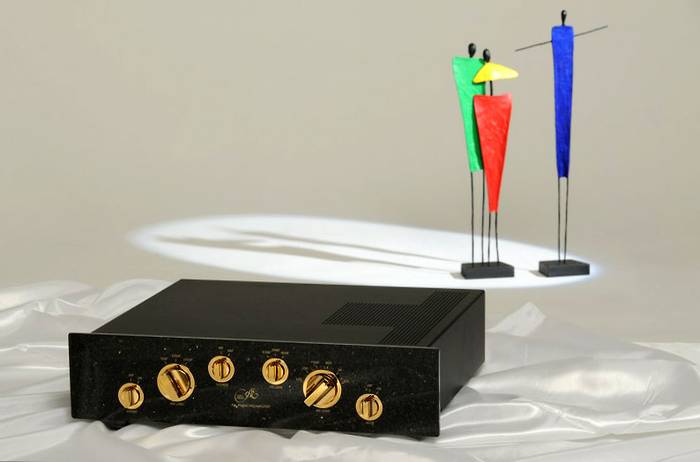 Outstanding Features
The P2 is the first standalone MM/MC phono preamplifier from Audio Exklusiv. Although it is a pure solid-state design, it shows the tonal magic of tube technology. It is built completely in dual mono right up to the toroidal core transformers. In the MC-section there is a cascaded eightfold FET input stage; the MM-amplifier has a wideband FET input stage and thanks to a double servo it is completely DC-coupled. A gain-independent RIAA filter and a Class A output stage complete the design. The extremely high-quality power supply employs unusually large filter capacitors, which are coupled with an additional L-C-L-C filter (a so-called capacitor multiplier).
Multiple adjustments such as amplifying factor, capacitance and resistance can be selected from the front panel. Switching is done by reed relays. Additional resistances can be inserted for fine tuning at the rear panel. Audio Exklusiv's special patented resonance-elimination measures are also implemented in the P2. Applied to specially targeted parts, they drastically reduce artifacts and similarly improve the restitution of fine detail and room information, which can clearly be heard despite the extremely low-level phono signal.
The standard design of the unit is in Star Galaxy Granite – and the knobs in gold. Other – special – designs are available on request at extra charge.
Specifications
Frequency response: RIAA +0.09 / -0.18 dB
S/N ratio, weighted: 85dB (MM), 79dB (MC)
THD+N: 0.0074% (MM), 0.079% (MC)
Gain: 46dB (MM), 51, 61, 71dB (MC)
Impedances: 100, 250, 500, 825, 1k, 47k (MC)
Capacitances: 50, 100, 150pF (MM)
Dimensions: 480 (W) x 465 (D) x 125 (H) mm
Weight: 16.5 kg
Reviews