"Der Plattenspieler" Reference Turntable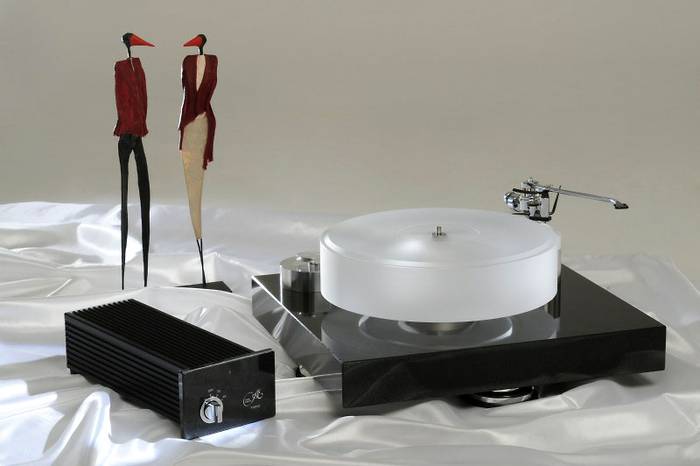 Outstanding Features
The conception of the "Der Plattenspieler" Reference turntable is based on the Audio Exklusiv primary drive, but it has been refined in all essential points. The plinth is granite, known to be a high-density, compact natural material. A mighty 320 mm platter 80 mm in height and 8 kg in weight, built of cast, beautifully turned, tempered methacrylate offers precise low-resonance playback support for the record.
The mechanical heart of the turntable is an inverted multiple-hardened steel-and-ceramic bearing which is painstakingly optimized and polished for the quietest possible running and longest life. The bearing support and the stand for the tone arm base are incorporated into the plinth. In both elements, patented Audio Exklusiv resonance control techniques have been applied, removing interference from the plinth as well as from the platter, bearing and tonearm base. In this way artifacts are considerably reduced and the restitution of fine detail and room information is clearly improved; also the background becomes blacker.
To drive the platter we chose a modern, expensive synchronous motor in a large damped and decoupled enclosure. To maintain tone quality we abstained from using a motor control.
The standard design of the unit is in Star Galaxy Granite. Other – special – designs are available on request at extra charge.
Dimensions and weights
Turntable – 450 (W) x 430 (D) x 210 (H) mm / 46 kg
T-Drive- 110 (W) x 350 (D) x 90 (H) mm / 2.8 kg